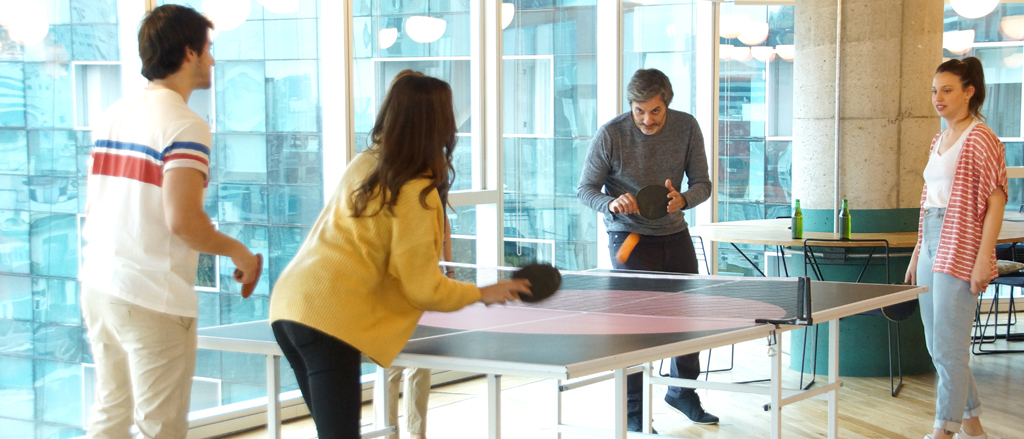 Ping pong tables don't engage employees
Jan 16, 2020
Resources
---
Nicole Stewart, CPHR, SHRM-SCP
Vice President, Human Resources, Payworks

Nicole has almost 20 years of management and HR experience, and has spent much of her career cultivating Payworks' unique, high-engagement, low-turnover culture as the leader of our talented team of HR professionals.
Vice-Président Ressources Humaines, Payworks

Nicole compte presque 20 années d'expérience en gestion et dans le domaine des RH et a passé la majeure partie de sa carrière, à titre de responsable de la talentueuse équipe des spécialistes en RH, à promouvoir la culture, l'engagement marqué et le faible taux de roulement qui sont uniques à Payworks.
---
We've all heard the lore of "cool and kooky offices" - you know, the ones where employees work diligently in a treehouse, enjoy lavish lunches in cartoon-inspired carousels and begin their commutes home by riding a slide down to street level!
The goal of these spaces has always been to first attract and then retain staff, particularly in under-resourced industries where competition for the best and brightest is fierce. And while some of these perks have indeed proven successful in dazzling new recruits and existing staff alike - after all, there's an often-used golf simulator at my own office! - the reality is that these design wonders are less effective tools for long-term employee retention and engagement than one might expect.
For an employer, understanding the value of "life perks" that build loyalty and long-term fulfillment for your employees over "work perks" like the short-term thrill of arriving at your next meeting by fireman's pole is a critical component in employee retention. The ultimate goal is to develop a workforce of engaged employees, as these employees contribute both better and longer to their organizations, and go above and beyond what is expected of their particular roles.
So if not nap pods and beer kegs, what does build engagement?
1. Creating a workplace where employees can be themselves and are trusted to get the job done
The term "micromanagement" was coined decades ago, and since then studies have clearly linked this corporate culture to higher-than-average turnover rates and diminishing performance among the staff that do choose to stick it out. When staff feel empowered to manage their own objectives and time, they typically outperform their industry peers; this success in turn builds loyalty to the organization that supported them in achieving their goals.
Respect for an employee's individuality can manifest in smaller ways too; for example, there is a rapidly growing trend of establishing casual workplace dress codes in response to employee demand. Demonstrating trust in your employees to present themselves professionally and appropriately for their individual work circumstances is just another small way to make a big impact in building a corporate culture of self-expression and respect.
It's less about buying a foosball table and more about bringing together a unique team of individuals that enjoy each other's company enough to want to play a game of foosball together.
2. Creating a workplace where employees have flexibility and encouragement to grow
Similar to the benefits of trusting employees to manage their own days, empowering them to manage their own career evolution within an organization improves morale, retention and performance. If employees are encouraged to tap into latent skill sets or budding interests to contribute to their organization in new ways, their roles will feel fresher, longer.
Consistent forward motion along the continuum of responsibility and reward demonstrates the employer trust that is so key to retention.
3. Creating a workplace where employees know their organization genuinely cares about their wellbeing
The growing trend towards employees prioritizing improved work-life integration and flexibility has been well-documented over the past decade. The most positive and productive work cultures are the ones that recognize the dual influences of work and home on each other, and encourage support in bringing those spheres together rather than pitting them against each other in a quest for zero-sum balance.
In his podcast "The Human Assignment", Matt Johnston of Johnston Group speaks to the fact that "what happens at work is what people bring home and what happens at home comes with them to work." Empowering employees to embrace this integration and enjoy the flexibility in both environments that comes along with it will make for a less-stressed, more productive workforce overall.
4. Creating a workplace where employees understand and connect with the company's purpose and that the work they're doing makes a difference
Employees feel most gratified when they can directly see the impact their work has on their colleagues, clients and communities.
Seeing first-hand how their unique and meaningful contribution ultimately makes someone else's day run smoother, brighter and better stokes employees' fires of internal motivation and leads to even stronger engagement.
They also understand that their work directly impacts the bottom line, which in turn well-positions their organization to make a difference in the community. Even if your organization isn't a not-for-profit with a clear philanthropic agenda, there are still a myriad of ways to demonstrate real community support: sponsorships, fundraising initiatives, paid time off for volunteering, top-down cultural messaging from your leadership team and more.
As the workforce continues to skew younger, organizations' commitment to their communities should increase accordingly. The Deloitte Global Millennial Survey 2019 states that there are "strong correlations between those who plan to stay in their current jobs [for five years or more] and those who said their companies deliver best on financial performance, community impact, talent development, and diversity and inclusion"; it also suggests this shift is a contributing factor to the fact that over half of the business and HR leaders surveyed expect social enterprise issues to be more important to their organizations three years from now than they are today.
Ultimately, the key to employee engagement is to create an environment where your team can be successful. The best way to accomplish this is to offer challenging goals and projects that clearly fit into your organization's objectives, contribute to and encourage the growth and development of your employees, and trust that you've hired professionals who can collaborate effectively and want to do a good job (even if they do want to take a break for a game of air hockey now and then).
There's a time and place for everything, so you can go ahead and pick up that ping pong table if it's in the budget. But if it's employee engagement you're looking to invest in, focus more on corporate culture and the overall employee experience and less on keeping up with the Joneses when it comes to cool office perks.
Want more HR Insights? Sign up for Payworks' upcoming webinar by clicking here.