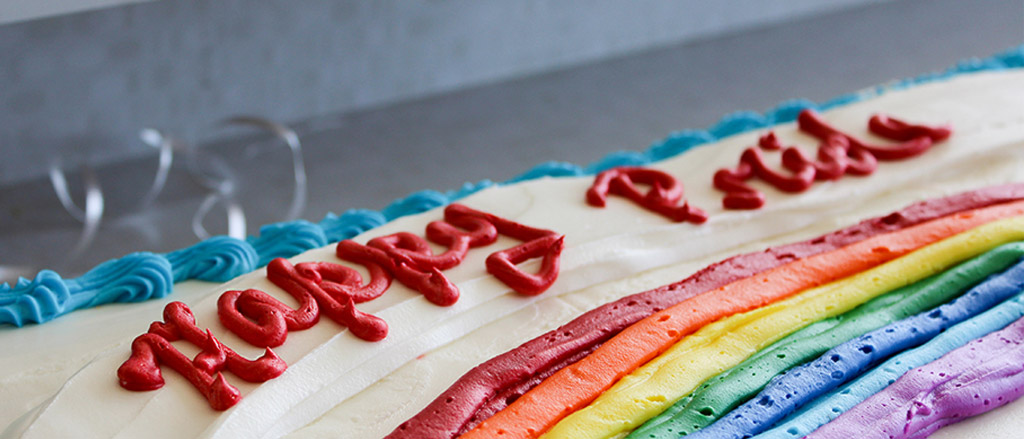 Jul 04, 2019
Culture
--- Payworks
---
In recognition and celebration of LGBT2SQ+ Pride Month (June), Payworks welcomed Rainbow Resource Centre Executive Director, Mike Tutthill and Pride Winnipeg VP of Programming, Barry Karlenzig. In honour of the Stonewall Riots, which took place in the early morning of June 28, the month of June is the chosen time to reflect upon the struggles faced by LGBT2SQ+ individuals to achieve equal rights and treatment, as well as the impact the LGBT2SQ+ community has made throughout history. The month of June brings together millions of people worldwide, all in the celebration of pride and the successes that the LGBT2SQ+ community has achieved in creating a proud, diverse, and welcoming society in which everyone is given equal human rights and treatment.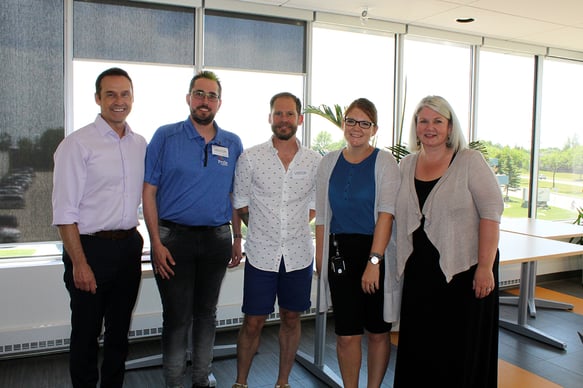 On June 27, Payworks staff in Winnipeg gathered to hear from our invited guests. Rainbow balloons filled the room and cake was passed around to welcome the audience upon arrival. Payworks President and CEO JP Perron commenced the event, introducing both Mike and Barry. Mike followed the introduction and explained the mission of the Rainbow Resource Centre (RRC), which is to "provide support, education, and resources to foster a proud, resilient, and diverse LGBT2SQ+ community." Mike spoke to the various initiatives organized by RRC, which includes counselling, support groups, a summer camp for LGBT2SQ+ youth, educational programs and a library to assist in the education of the LGBT2SQ+ community's experiences. With the help of educators and the community, RRC creates a supportive and educational environment. He further spoke to the importance of creating allies with corporations - like Payworks! As more workplaces promote a welcoming and inclusive environment there is a "ripple effect of inclusion," said Mike, all as a result from corporate support.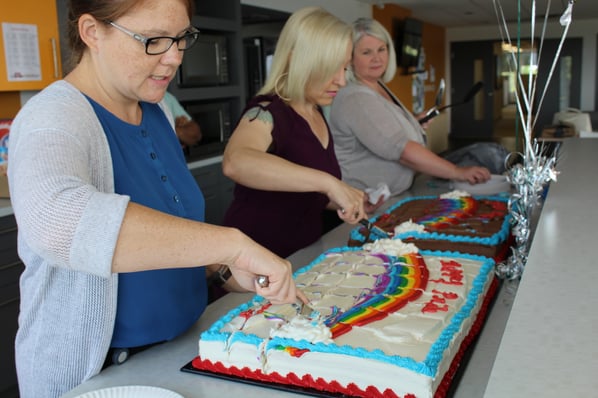 Barry took the stage afterward and spoke about his work with Pride Winnipeg. Barry chatted about the change that he has seen occur over the years around social acceptance and he talked about the positive strides workplaces have created to ensure future generations are able to work in an inclusive environment.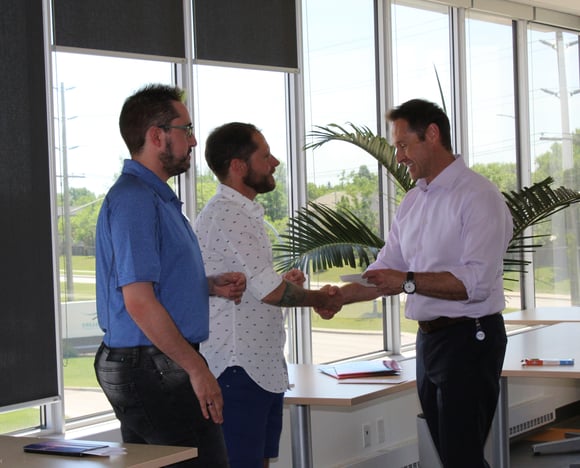 There was approximately 50,000 individuals who attended the Winnipeg Pride Parade on June 2. Alongside hosting events in Winnipeg, Barry and the Pride Winnipeg team frequent events supporting the LGBT2SQ+ community around the world - in fact, Barry spoke to our staff about some of his experiences attending the Pride Parade in Minneapolis just prior to his visit to our office.
We're extremely fortunate that both Mike and Barry were able to join us and have the time to chat about the great organizations they both work for. Thank you, Mike and Barry - and Happy Pride to all!