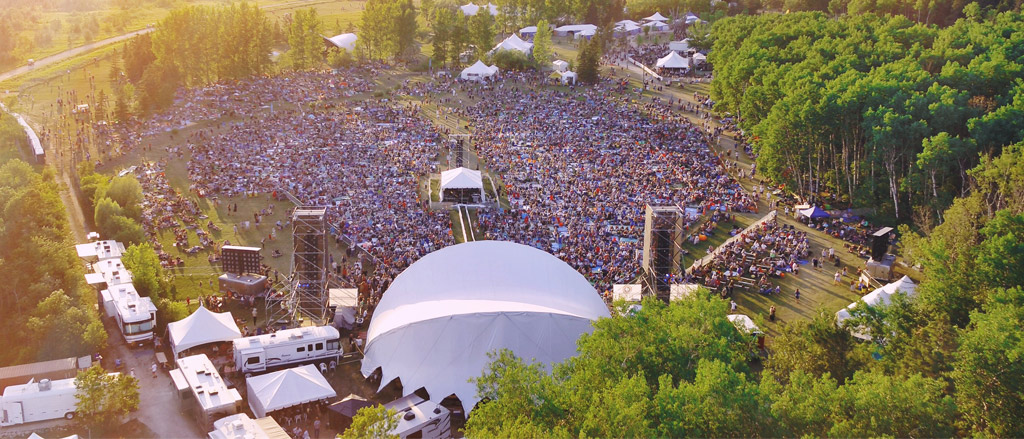 Natalie Deane Pays it Forward with the Folk Fest Campground Crew
Dec 21, 2019
Pay It Forward
--- Payworks
---
Photo courtesy of the Winnipeg Folk Festival.
For over 70,000 visitors from around the world, the annual Winnipeg Folk Festival is the highlight of an already-beautiful Manitoba summer. This celebration of arts, music and community wouldn't be possible without the nearly 2,900 volunteers that help make it happen.
Payworks Product Manager Natalie Deane is one of many lifelong "Folkies", and she's been volunteering with the Festival since 2012. She was proud to use her Pay it Forward (PIF) Day this past July to volunteer as a member of the Quiet Campground Box Office Crew. Natalie and her fellow box office volunteers are often guests' first point of contact.
"You name it, we've heard it," she laughs. "The volunteer community is like a big family, and we're all dedicated to creating the best festival experience for each person, so sometimes we need to be extra creative and resourceful in providing answers and solutions!"
Natalie recalls helping a mother and daughter whose annual Folk Fest visit represents some of their most special quality time together, but who were concerned that the mother's recently-developed mobility challenges might make it difficult to continue enjoying the festival to its fullest. Natalie worked to find them the best camping spot in a restricted site and connected with the security team to ensure the whole crew was ready to assist the family as needed, recalling that "they were so grateful for all the friendly faces who really cared to listen to them and lend a hand."
A lack of volunteers like Natalie has meant the end of many other international folk festivals, and she's determined not to let that happen here.
"Arts, culture and music are very important to me," she says. "Musicians, artists and vendors come from all over, many of who are just getting started or heavily rely on the festival to continue practicing their craft. It's so important to keep the festival alive and protect something so special and unique – Folk Fest can feel like a whole other world!"
Natalie is grateful that Payworks allowed her the opportunity to serve the community she loves through the PIF program.
"I think PIF days speak to the very core of what Payworks is all about… Doing Right by People!"