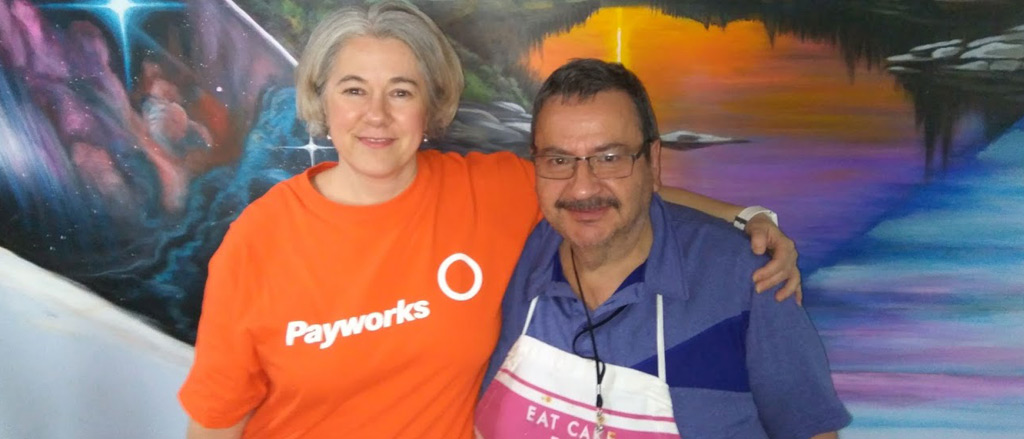 Connecting with the community
Jul 27, 2019
Pay It Forward
--- Payworks
---
Payworks Privacy Officer Louise Collette spent May 6th Paying it Forward at Morberg House, a 12-bed transitional residence for homeless individuals in the heart of St-Boniface, Winnipeg.
Staffed 24/7, the residence provides services and support for men overcoming homelessness, addiction and mental health challenges. The space equips individuals with the resources to address and overcome the root problems of homelessness, in a welcoming environment.
Louise's Pay it Forward Day started with a tour of the facility, conducted by full-time employee and registered Occupational Therapist Arthur Weldon, to better familiarize herself with Morberg House. Walking the halls of the establishment Louise was struck by its homey atmosphere, complimented with an open kitchen area. This layout promoted a welcoming space in which individuals can sit down together, enjoy a home-cooked meal, and partake in household activities. This is where Louise spent a large portion of her day, as she prepped meals, cleaned the dining area, and helped out in any other way possible.
While in the kitchen Louise had the opportunity to speak with a member of the staff which proved to be one of the most memorable experiences of her Pay it Forward Day. This member shared his personal journey and his gratitude to Morberg House for playing an integral part in his recovery. Louise said hearing this story first hand really exemplified just how integral programs like this are in the community.
The day ensued with the remainder of Louise's time being spent in the facility's backyard tending to the vegetable garden. She explained that serenity and unity were both blooming in this space which is regularly maintained by both volunteers and residents. Louise explained this type of collaboration and team work is found throughout Morberg House. She recalled how supportive and respectful the residents were to one another throughout the day. This was exemplified when a new resident arrived to the house and was met by support and attentiveness from all.
"Paying it Forward is really a 'feel-good' initiative," said Louise. "It's not until you step out and volunteer first-hand that you can really see the full impact of Payworks' Pay it Forward Days".