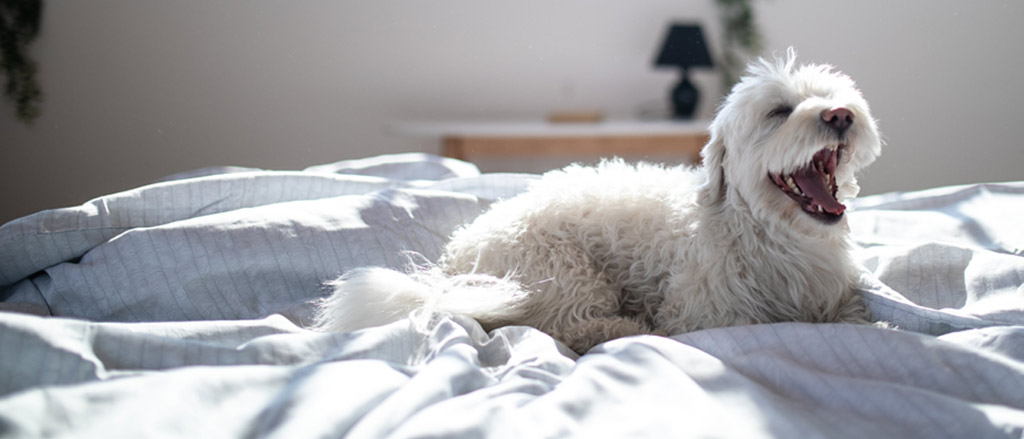 Helping senior dogs find forever homes
Jul 30, 2020
Pay It Forward
--- Payworks
---
Every year, an average of 30,000 dogs are taken into shelters across Canada as they await their forever homes. Volunteer-operated Before the Bridge is one of Winnipeg's more unique animal rescues, specializing in placing senior dogs (seven years or older) with foster families while they await adoption.
According to Before the Bridge, senior dogs are often overlooked in favour of puppies or younger dogs, despite the fact that they make incredibly loving and comparatively lower-maintenance pets. But thanks to their volunteers, they've rescued over 500 senior dogs since opening their doors in 2012.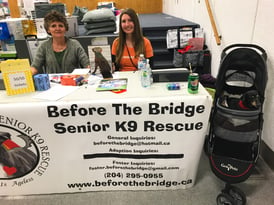 One of these volunteers is Eaden Hnatiuk, one of Payworks' Client Service Representatives. Eaden fostered – and then quickly adopted – a sweet dog named Tulip through Before the Bridge in 2019, and used last year's Pay it Forward (PIF) day to volunteer at their annual scrapbooking fundraiser, which was held in September at Deer Lodge Community Club.
"I chose to use my PIF day to help Before the Bridge because they're a very small organization that relies solely on volunteers and donations to operate," says Eaden. "I've had the pleasure of meeting many of the wonderful people involved, and they'll always have a special place in my heart for the work that they do."
The fundraiser runs over two days and provides a community space and creative resources for like-minded scrapbookers to gather and work on their projects. Eaden's responsibilities included first-day setup, distributing snacks to hungry participants and even dog-sitting a few of the pups that stopped by to say hello.
"It was really nice to see everyone's faces light up when some of the adoptable seniors came for a visit," Eaden shares. "They were especially in need of volunteers to help with setup during business hours, so this was a great opportunity to finally put my PIF day to use. PIF Days are an awesome benefit for all of us at Payworks, because it gives us the opportunity to spend time helping organizations and causes that matter to us personally, which is great for morale and benefits the community."
Due to the COVID-19 pandemic and the cancellation/postponement of their larger fundraising events that contribute to the funds needed to pay for the vetting of their senior dogs, Before the Bridge currently has fewer dogs available for adoption. For more information on supporting Before the Bridge or fostering a senior dog, visit www.beforethebridge.ca.