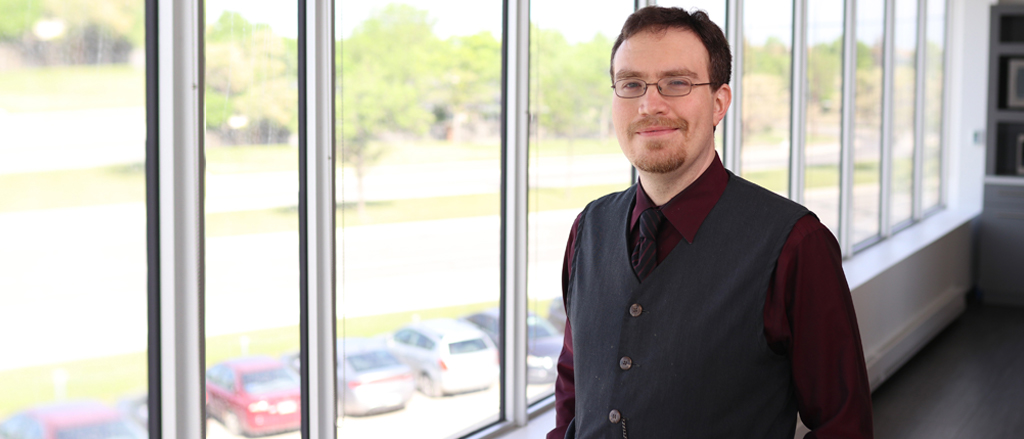 Nov 14, 2019
Culture
--- Payworks
---
Paul Kesson is both a Payworks Infrastructure Analyst and proclaimed ninja.
Paul has been a part of the Payworks team for just north of five years, initially as a member of our IT Operations Department before moving into his current role as a part of the Infrastructure Team. As Paul is fond of saying, he "went from playing with small computers to playing with the BIG computers." Though some may have dreamed of becoming firefighters or astronauts growing up, Paul had always aspired to work with computers, whether that be with programming, maintenance, or the like; he also admits that the only 'Virtual Fire™' he enjoys is the one on the fireplace channel that occasionally plays in the employee lunchroom during the holidays. Regardless, we're fortunate that his dreams came to life. The University of Manitoba Computer Science alumni has been working in this field since the very beginning of his career, starting out as part of Nintendo's Support Team before moving into a career here at Payworks.
Like all members of the Infrastructure Team, Paul's primary focus can essentially be boiled down to: are the servers working properly, and are they secure. His role does lead to the occasional late night, but Paul says he very much appreciates Payworks' give-and-take flexibility and purpose of Doing Right by People because that means he isn't then expected to arrive at 9:00 am the next morning. Paul is also the Lead for Payworks' phone system, which is super important considering the unlimited one-to-one support Payworks offers all 20,000+ of our clients. Paul is also the lead on Payworks' corporate backups, ensuring all client data remains within Canada in one of our multiple industry-leading data centres.
Outside of work, Paul has assisted Ai-Kon, Winnipeg's own anime convention, since following his passion and joining the organization in 2003. He also enjoys tinkering with electronics through his work as an amateur broadcaster and gamer. While he enjoys all genres of music, Paul has a particular fondness for folk music, such as Great Big Sea and Stan Rogers.